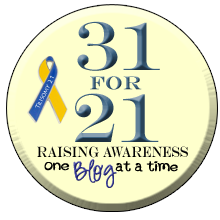 Grab This Button
Mommy reporting: The brainchild of my friend Tricia (whose writing I do so miss… in case she happens by), 31 for 21 is now in it's 7th round.  Hard to believe.  Tricia has handed off the hosting duty to another friend, Michelle, who is doing a marvelous job, as she always does.
October is Down syndrome awareness month, and I'm guessing since this blog has all but lost it's previous flow of readers (I blame Faceb**k but it's more likely the long breaks I've taken, in fairness), those of you who are here are probably well aware of how 31 for 21 works.  If you click the button—which I'm proud to say I created for Tricia a few years ago, per her design requests—it'll take you to the more formal explanation.
Anyway, the idea is that I try to post every day in October.  It might not be much.  Which is sad because there is SO much DS related-ish stuff I could write about. But I'm living it, and it's leaving little room for writing about it.
I'll do my best.  It's all about this tiny girl…