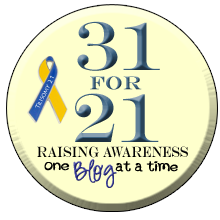 That's right, it's time again.  31 for 21 is here.  Hooray!
October is Down Syndrome Awareness Month and we're cheering about it!
(Or maybe Braska's just trying on her new uniform for Saturday's competition.)



Kinlee is wearing a different uniform, but also cute. She had dress rehearsal for their routine tonight.  Their competition debut is Saturday morning!



Braska rocked her balance beam work tonight.  This girl has come a LONG way with cheer and tumbling since the end of April.  Especially great now that she doesn't get PT. 

It'll be a month of pictures and a few words, but at least there will be posts!  That's worth something, right?!?