October is Down Syndrome Awareness Month. So we'll highlight a few little special things about what DS means in our house.

[I have Down syndrome. I love to play with my grandmas. I like to see all my family. ]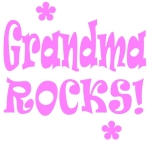 Today Mommy had to go to my IEP meeting. That's where they talk about how much I get to see my teachers and what stuff I am going to try to learn this year. We were going to go to Kinlee's new school, but she's been sick so we had to stay home. While Mommy was gone, Grandma C came to play with us. It was VERY fun!
Mommy will talk more about the meeting
over here
. If you have questions, you can ask her here or there. I just know she was glad with how it went, and there were goodies left over when she got home. She said I will have a great year, but I already knew that!