Crazy Beautiful Love is hosting the Hoppin' for 21 Blog Hop today.
v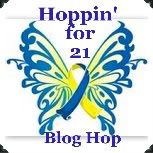 Since I'm still home resting from getting my eyes fixed, we're gonna cuddle up and look at lots of pictures of new friends.
If you're hopping by from the Blog Hop, HELLO!  I'm glad you came to see me!    I'm Braska, and I'm gonna be 5 next month.  It's almost happy birthday time!  My little sister is KiKi and she's 2.  We live close to St. Louis!
Be sure to click over there on the left and join our fun bunch. Hope you leave me a note to say hello, and we'll come see YOU too!
Oh!  And there IS a prize involved.  If you link up your blog to the Blog Hop, there are goodies to be awarded! So go check it out!