When we lived in C-U, we had a little adorable circle of friends for Braska in the local DS group.  One of them was Madison.
I received news today that sweet Madison was involved in a horrible accident today in her driveway. In a split second, her precious light moved on to shine in heaven.

(Photo courtesy of Madison's family.)
I can't even formulate words that make sense. It all sounds so cheesy and hollow and insignificant. So I pray, asking God to carry her family during this time when they cannot walk alone.  My goodness… I'm numb, and I'm not related to the situation at all. Seems so silly.
Please PLEASE pray for Madison's mother. There are layers to this that I can only imagine will make a horrific situation even more impossible to deal with.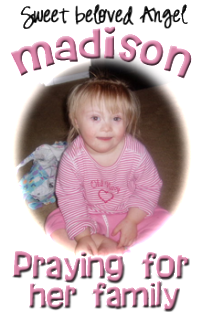 (Please feel free to post this button and pray for this family.