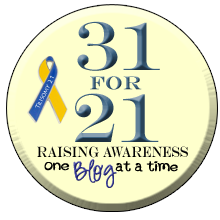 Grab This Button
Today starts October.  October is Down Syndrome Awareness Month.
There are lots of my friends who are all gonna be putting up a lot of great stories this month.  If you wanna see some of them, click on that button up there (my mommy made it for Miss Tricia) and it will show you lots of new friends.
And if anyone has any questions that they want to know what I think about, you can ask me.  I'll answer just for you!